Active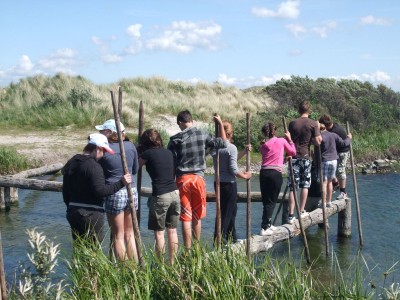 Strandpark De Zeeuwse Kust is located on a beautiful location at the foot of the dunes of Renesse on the beautiful Schouwen-Duiveland in Zeeland. Besides enjoying the sun on the beach, Schouwen-Duiveland has much more to offer; throughout the year! Discover it and experience a real Zealand vacation at Strandpark De Zeeuwse Kust!
National Park Oosterschelde
Do you like nature? Visit the National Park Oosterschelde . Plan Tureluur (Redshank) is a natural development project of unprecedented scale. The goal of this project was a reduction in the salt marshes and the foreshore by the construction of the barrier, the Philips and Oester. Visit with a Ranger 44 areas designated for nature.
Domeinen - Boswachterij Westenschouwen
The forrest of Westenschouwen is about 1100 hectares, of which 300 hectares of forest have emerged around the twenties of the last century. When visiting forestry Westenschouwen, you will experience the beautiful flora and fauna and fantastic views. There are several plotted routes, which combine both forest and beach. For horse lovers, there are many beautiful trails off.
Klimbos Zeeuwse Helden
In the forestry of Westenschouwen is established a real climbing forest. The climbing is a tough activity that can perform both young and old when you do not suffer from vertigo. At high altitudes strum, crank or run you about climbing ropes to the next tree! Curious to see this spectacular family getaway? Take a look at their website.
Brouwersdam Watersportcentrum
Zeil- & Surfcentrum Brouwersdam has listed the water sports and is open 7 days a week. The sailing and surfing school is VDWS recognized, and the classes are taught by qualified and enthusiastic instructors. In the period from March to November surf lessons and sailing courses are given to children and adults. Also you can go here to rent materials. Furthermore the Watersportcentrum has a Water Jump! You slip on the Water Jump down, hovering at least five meters in the air and then... splash! You dive into the water. Breathtakingly exciting.